What commercial cleaning services do we provide?
1Touch Cleaning Professionals specializes in one time services such as: post construction and special event clean ups, as well as recurring services such as: janitorial services, office cleaning, floor care services & more.
We proudly serve the Broward & Miami Florida area. 1Touch Cleaning Professionals delivers best-in-class full service commercial cleaning, janitorial services, and building maintenance services to customers in a wide variety of markets.
We tailor our janitorial services to meet the individual needs of your business to ensure the highest level of cleanliness. We understand the importance of having a clean workplace and we strive to deliver the highest quality janitorial services.Click on any of the links below to discover more about the individual services we provide or reach out to have a conversation with our team.
DAY PORTER SERVICES
DISINFECTION SERVICE
EVENT CLEANUP
COMMERCIAL CLEANING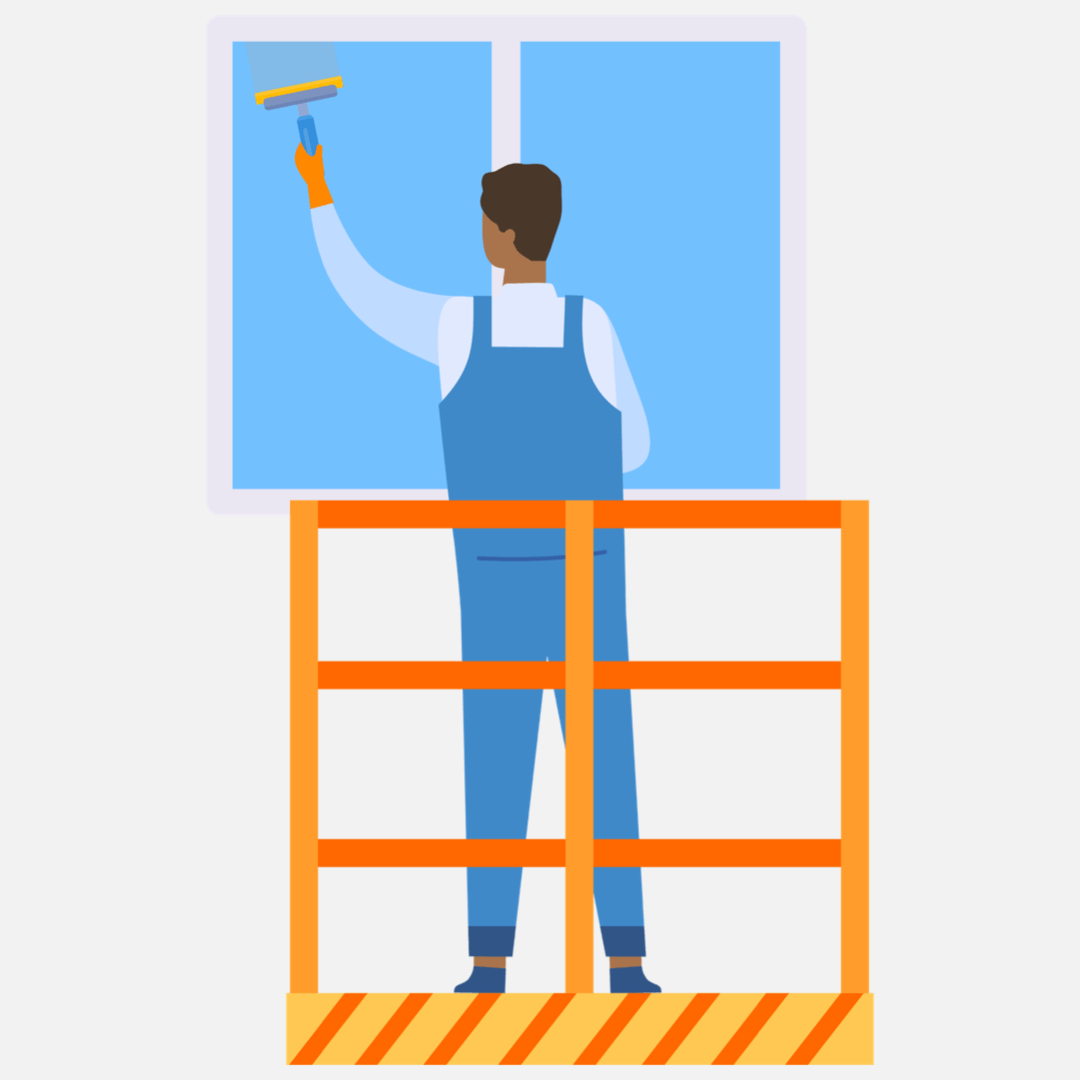 POST-CONSTRUCTION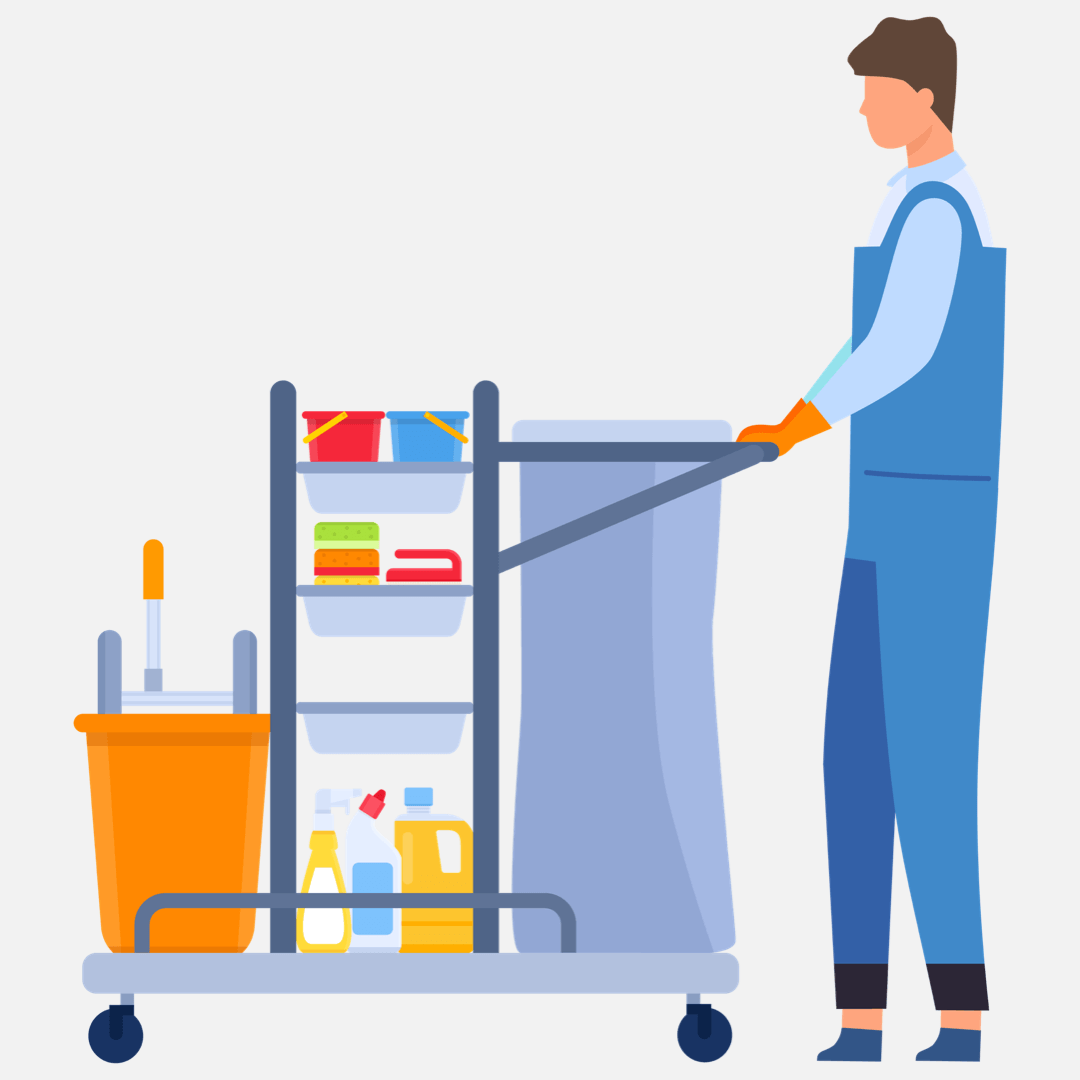 SUPPLY MANAGEMENT
FLOOR CARE
TURN-OVER SERVICE
Why Do Our Customers
♥

Us?
Staff members were very professional and the cleaning was exceptional. The company is very reliable, and has given me peace of mind during this pandemic. I definitely recommend this company for anyone who needs any type of cleaning or disinfecting services!!
Jean Pierre Isaza
2023-08-30
Good work, professional and reasonable pricing. Raintree.
Victoria Ramos
2023-02-03
Brandon and his team were amazing! He communicated with us through the whole process. We were moving into a new house but it was still dirty from the last tenants. They were able to clean in area we didn't even know needed cleaning. Customer service was excellent. Fast and thorough cleaning with amazing results! Extremely happy with choosing 1Toucn Cleaning and will continue to us them in the future.
Ronald Hardge III
2023-02-02
Great service! Really great people and most of all great results. Best in the business.
Lindsay Crabtree
2022-11-18
Great cleaning company and amazing customer service! Brandon is very helpful in making sure that you are 100% satisfied with his teams hard work. Definitely would recommend this company for cleaning services!
Michael Silecchia
2022-08-22
Brandon and his team operate at a level different than most. Our company has used several companies (brokers..which are a drag to work with) and none are even in the same league as this man and his team. Not one of my colleagues had a single complaint and that's the Truth. Thank you Brandon for your wonderful and thoughtful service. God bless you my brother. Love, Michael Silecchia , Financial Controller for Applied Aerospace Solutions
I have been condo living in Florida for 20 years and Rose with this company, is by far is superior than any other. Professional, communicative, and meticulous with integrity. A golden find. Praying we have her and this company for years!
As the studio manager of OrangeTheory Hollywood, I take pride in our studio and want it always looking at it's best. Brandon, Andre, Tricia, and the whole crew have not only reached my expectations but exceeded them. Our studio not only looks and smells fresh and clean, but it feels clean. The bonus, the staff are amazing and friendly. I am so happy to have them apart of the OTF team representing Hollywood #sofreshsoclean 1Touch cleaning, really does leave a lasting impression and I highly recommend
I recently had to find another company to clean my office and am really happy that I found 1Touch Cleaning. They do an absolutely amazing job, and are very professional. I highly recommend their services! Thank you so much 1Touch Cleaning for being such an excellent company!
Commercial Cleaning Services: Broward | Miami Dade
1Touch Cleaning Service is the commercial cleaning service with your go-to solution for a spotless, sanitized and fresh looking business. We're the cleaning experts that go the extra mile to ensure your facility sparkles and shines, leaving a lasting impression on your customers and employees.
Our professional commercial cleaning service is committed to being the best in Broward County including Miramar, Hollywood, Davie, Cooper City, Pembroke Pines, and Fort Lauderdale.
Our unique approach of tailoring our services to meet the individual needs of your business guarantees that every inch of your facility is cleaned to perfection. With our cutting-edge communication tools, you can easily stay in the loop and give feedback, ensuring that we exceed your expectations every time.
1Touch Cleaning Service utilizes Swept, a cleaning service software that aids in scheduling and job task monitoring. By using Swept, we can offer a range of benefits to our clients, including scheduling and dispatch, real-time updates, and excellent communication tools. With the ability to assign tasks and see what has been completed in real-time, we can ensure that everything is getting done on time and to the highest standards.
In addition to scheduling, Swept also allows us to keep in touch with our clients through the platform, sending updates and alerts as needed. This ensures that our clients are always informed about the status of their job and any issues that may arise can be addressed promptly.
Our process starts with a deep dive of your facility, during which we assess your needs, create a schedule that works for you and establish a fair and transparent pricing. Our project managers will then oversee the initial clean and make sure your expectations are met consistently.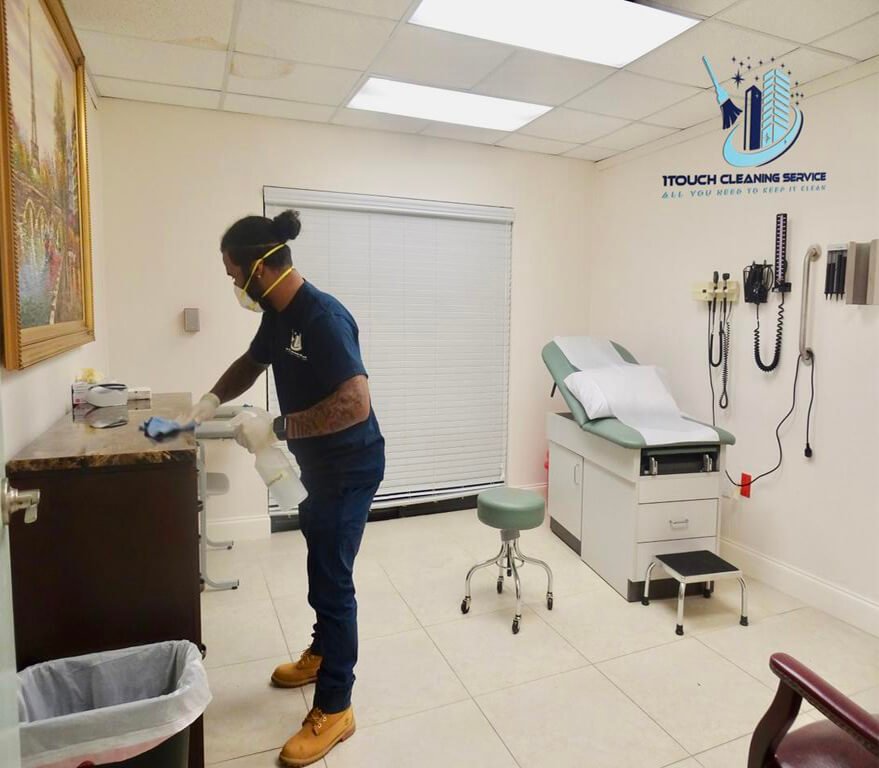 WHO 1TOUCH CLEANING SERVICE SERVES?
Industrial Facilities
Car Dealerships
Medical Facilities
Fitness Centers
Educational Institutions
Law Firms
Religious Organizations
Corporate Office Spaces
Much More
COMMITTED TO SANITIZATION
At 1Touch Cleaning Service, we understand the importance of maintaining a clean and healthy workspace. By prioritizing cleanliness and safety, we ensure that your office space is free from harmful pathogens that can compromise the health of your employees and customers. Our commercial cleaning policy is designed to provide you with the highest level of cleanliness and sanitization, giving you the peace of mind you need to focus on your work.
One of the ways we ensure that your space is clean and germ-free is by using color-coded rags. These rags are specially designated for specific areas of your office, reducing the risk of cross-contamination and the spread of germs. By using this system, we can effectively remove dirt, dust, and other contaminants from your space, leaving it sparkling clean and safe for everyone who enters.
In addition, we use state-of-the-art electrostatic sprayers to provide an extra layer of sanitization for commercial cleaning clients who require it. This technology uses charged particles to disinfect surfaces, ensuring that even hard-to-reach areas are thoroughly cleaned and disinfected. This advanced cleaning method is highly effective in killing germs, bacteria, and viruses, providing an extra layer of protection for your employees and customers.
By choosing 1Touch Cleaning Service, you can trust that your space will be spotless and sanitized. Our team of experienced professionals is dedicated to providing you with a clean and safe environment that promotes productivity and well-being. With our advanced cleaning methods and attention to detail, you can rest easy knowing that your space is in good hands.
Ready to start or Need Consultation?
Don't Hesitate To Contact Us ANy Time.